Everything Under One Roof


Designcraft is a small PR-tool production studio in Kyoto, Japan, offering writing, translation, and graphic/web design services in multiple languages. Based in a typical machiya traditional townhouse of Kyoto, Designcraft creates words and graphics in-house—just like the consummate craftsman engaged in the making of handmade crafts.

Unlike large creative agencies, where the end product is often produced through a division of labor or on an assembly line, we essentially create everything under one roof, with a focus on appealing to the target audience.

For example, let's say you want to create a brochure or a website in a foreign language. At large agencies, a writer first writes copy in his own language; then a translator translates this copy without even knowing how the text will be laid out; and finally, a designer who barely understands the translated text designs pages with foreign-language fonts he is not familiar with. Also, in this kind of setting, where creative personnel are not visible to the client, it is often the case that communication goes wrong—as if everyone involved is playing the telephone game.
Warp and Woof


For us as a PR-tool production studio, words and graphics are like the warp and woof of a textile. If you want to weave a finished product that is sufficiently appealing to your target audience, these two aspects cannot be treated separately.

Designcraft values the harmony between words and graphics. We always pay careful attention to the objective and target audience of the communication or the finished product. The differences in media by which the communication is delivered is also important. Also, if the communication is geared toward a foreign country, we do our best to understand the cultural background and the customs of the target country so that we can avoid literal translation. That's because we know that a typical sentence construction in one language may not sound quite right in another language.
The International Communication Expert


Ever since we launched in 2008, we have helped many global companies communicate with their target audiences in Japan. Although we cannot disclose their names here, the list includes a British market research firm, a French apparel brand, a European food packaging company, and a U.S. pharmaceutical company, amongst many others.

In addition to our decade-long track record in our translation/transcreation service, another of our big advantages is that we offer a keen sense of graphic design, as well as significant experience in marketing and PR/IR. Our English-proficient staff help you tailor your marketing and PR tools to suit the Japanese market.
Like a Tea Master


In chado or Japanese tea ceremony, the tea master plays a pivotal role. He is not just the person who brews and serves tea. Before welcoming his guests, the master carefully arranges the tea room, selecting everything from hanging scrolls as well as teacups and utensils to the flower arrangement, all of which resonate with the occasion and the taste of the attendees.

Like the tea master who designs the limited tea room space to better communicate with his guests, Designcraft is committed to designing words and graphics to help our customers most effectively communicate with their audience.
Office

Address:
508 Kami-urokogata-cho, Fuyacho-dori Matsubara Sagaru, Shimogyo-ku, Kyoto 600-8058 Japan
---
Opening hours:
10:00 a.m.–6:00 p.m.
Closed on Saturdays, Sundays, national holidays
---
Phone/fax:
+81-75-344-8055
Founder & Creative Director

Shuichi Yoshida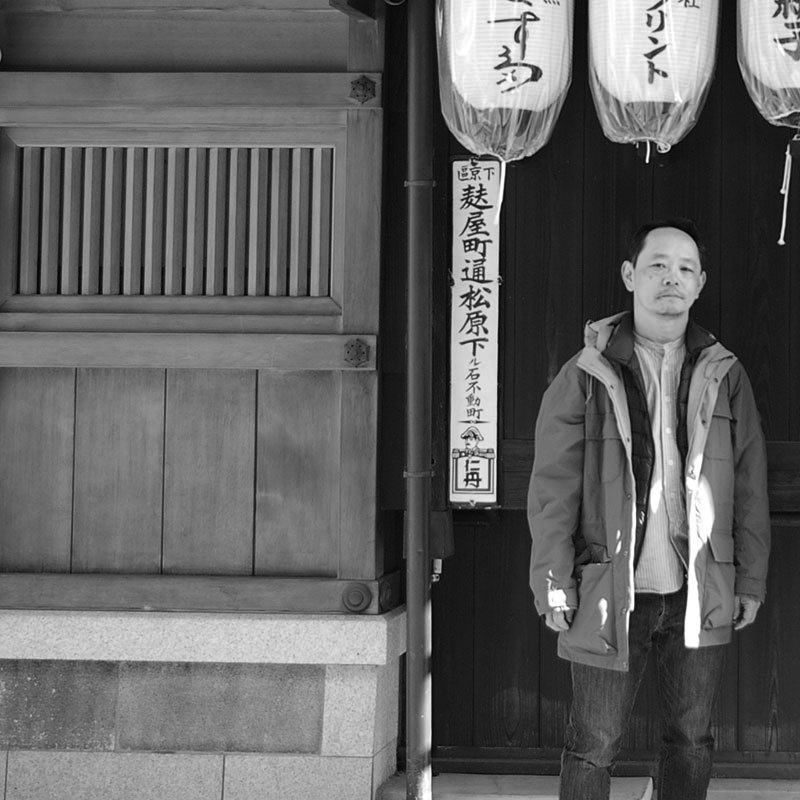 Before founding Designcraft in 2008, Shuichi worked as a creative director for twelve years at a Tokyo-based PR production company specializing in global communication. His clients included global corporations and advertising/media companies such as TDK, Seiko, Shiseido, Hakuhodo, NTT Data, Interbrand, Nikkei, and Nikkei Business Publications, as well as government and international organizations including Japan's Ministry of Foreign Affairs, the IMF, and the World Bank.

Before that, he had worked as a trader for a TSE-listed export and import trading company for seven years, including a two-year tenure in New York.

As a translator himself, he has translated several books from English to Japanese, including a book about English-language layout for Japanese designers written by a British graphic designer, as well as the Japanese versions of Picturing Prince: An Intimate Portrait by Steve Parke, and Between the Scenes: What Every Film Director, Writer, and Editor Should Know About Scene Transitions, by Australian filmmaker, Jeffrey Michael Bays.